The Pakistani cabinet has approved a new political map of Pakistan showing Jammu and Kashmir-Ladakh-Junagadh as part of Pakistan.

Pakistan Prime Minister Imran Khan, while giving himself information on Tuesday, said that the decision of the cabinet has been welcomed by all opposition parties and Kashmiri (Kashmir of Pakistan) leadership.

Imran Khan said that 'the new political map of Pakistan represents the aspirations of the people of Pakistan. Supports the ideological ideology of the people of Pakistan and Kashmir.'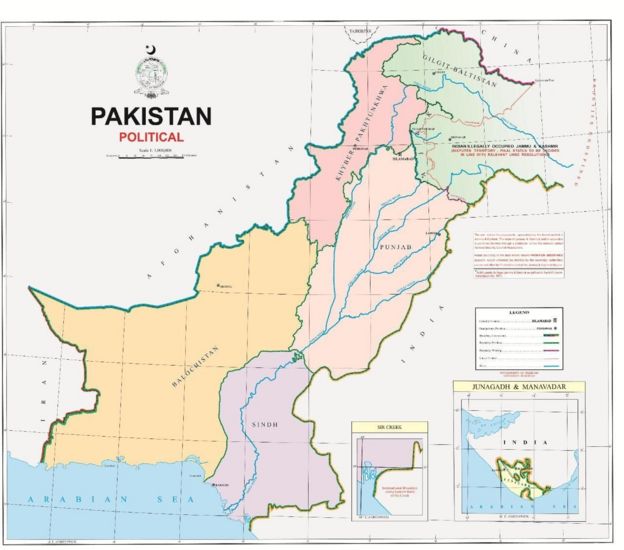 On this occasion, Imran Khan further said, "The political plan that India took in Kashmir on August 5 last year, denies it."

Imran Khan said that from now on Pakistan's schools, colleges and all offices will have the same official map of Pakistan which has been approved by the Pakistani cabinet on Tuesday.

India's response

India rejected this new political map of Pakistan and said that it has neither legal validity nor any credibility internationally.

The Indian Foreign Ministry issued a statement saying, "We have seen the so-called" political map of Pakistan "which has been released by Prime Minister Imran Khan. It is a baseless claim to the Indian state of Gujarat and the territory of our union territories Jammu and Kashmir and Ladakh, a step taken in political stupidity. These ridiculous claims have neither legal validity nor international credibility. The truth is that this new attempt by Pakistan only confirms the genuineness of Pakistan's passion for expansion of territory supported by cross-border terrorism.

On this occasion, Pakistani Foreign Minister Shah Mehmadu Qureshi said that the administrative map of Pakistan has been coming earlier (1949, 1976) but for the first time there has been a political map which used to be called Pakistanis in closed rooms, now it is called this map. They are telling the whole world where Pakistan stands.

Sir Creek and Siachen also claimed

Shah Mahmood Qureshi said that in August last year, India released a map showing Pakistan's Kashmir, Gilgit-Baltistan as part of India. Qureshi said that this step of India is completely against the bans of the UN Security Council.

Qureshi said that Pakistan believes that this entire area is disputed, the solution is being sought.

Qureshi said, "The solution will be found in accordance with the wishes of the Kashmiri and Pakistani people and the resolutions of the UN Security Council, which India has promised." There will be a referendum under the supervision of the United Nations which will decide what the future of Kashmir will be. ''

Pakistan Foreign Minister said that through this map Pakistan has rejected India's claims on Siachen Glacier and Sir Creek as well.

Qureshi said that this new political map of Pakistan gives a clear message to India and Kashmir that the Pakistani community was with the Kashmiris yesterday and is still with them today.

One year after the abolition of Section 370

India abolished the status of a special state to be given to Indian Kashmir under Article 370 of the Indian Constitution on August 5 last year (2019).

Apart from this, the state of Jammu and Kashmir was also abolished and converted into two union territories Jammu and Kashmir and Ladakh.

On the completion of one year of this decision of India, Pakistan has organized many special programs to show their support to the people of Indian Kashmir.

Issuing a new map of Pakistan is also a part of that.

While presenting the new map on Tuesday, Imran Khan said that Kashmir has only one solution, to accept the UN resolutions.

Imran Khan said, "The UN resolution gives the people of Kashmir the right to decide through a vote whether they want to go with Pakistan or stay with Hindustan." This right was given to him by the international fraternity which he has not received till date.

Imran Khan said that he does not believe in military solution and only political solution to Kashmir problem is possible. He said that this plan is the first step and his political struggle for the Kashmiris will continue.

Does the constitution of Pakistan approve it?

Hassan Abbas, an official of the Pakistan State Department, explained this new map, "Pakistan's new political map released through Imran Khan, Pakistan's Kashmir (Pakistan called Azad Kashmir), Gilgit-Baltistan, Junagadh, Sir. The Creek and the area after NJ9842 (Siachen) is considered as part of Pakistan, while the part of India is Jammu and Kashmir disputed area and has to be resolved according to UN Security Council resolutions.

On Wednesday, August 5, a march will be taken across Pakistan to show support from the people of Indian Kashmir, which will be led by President Arif Alvi. A minute of silence will also be kept in Pakistan tomorrow.

Imran Khan will join the march in Muzaffarabad, the capital of Kashmir, Pakistan and then address the House there.
(Click here for Android APP of IBTN. You can follow us on facebook and Twitter)
Share This News
About sharing